Is there times when you are thinking about inviting customer over to your house, and that's when you feel like your bathroom or kitchen need some updates?
You have the options to change the bathroom wall,  floor, shower floor,  backsplash or kitchen floor.
We're welcome you to visit us and let us show you the variety of the tiles display in our showroom to find the tile you like.
We're here to help you out. Please contact us if you have any question.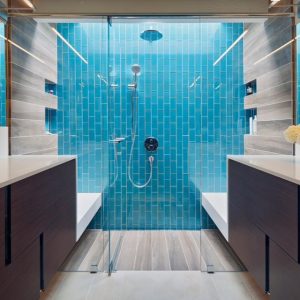 Picture discplay: #50 Turquoise glossy  3×6 glass tile with
GTD wood look 6×36 porcelain tile.
We're closed for Labor Day weekend 
From Saturday Sept. 1st TO Sept. 3rd, 2018
Return to regular  business on Tuesday Sept. 4th, 2018